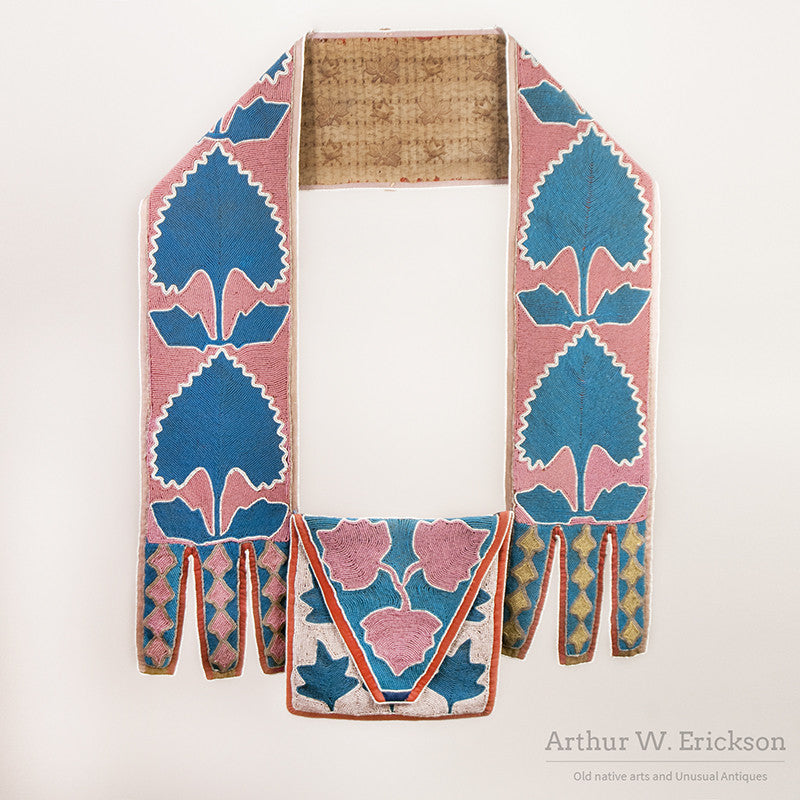 1850's Delaware (Lenape) Bandolier Bag
This is a beautiful 1850's Delaware bandolier bag with an interesting history.  It has a wide strap with spade shaped designs, and a bag with a triangular shaped flap extending the full length of the bag.  When I purchased the bag from the family, there was a small round hole in the strap which I was told was a bullet hole. The oral history in the family, which has owned it since the 1850's, is that it was taken in Texas from the body of an Indian after an attack by Indians.  It is unlikely that the attackers were Delaware as they were not war like and resided in Oklahoma.  This engagement occurred in Texas and a bandolier bag is not something a Delaware would wear casually or in warfare.  It is more likely that the Indian wearing it had taken it from a Delaware earlier and was wearing it as a "spoils of war" when he encountered the Texans and attacked them. Given how warlike the Comanche Indians were at that time, particularly in Texas, it is also likely that the attackers were Comanche.  When I obtained the bag, the bead work on the strap and bag were generally in good condition, with the exception of the tabs, some of which had substantial bead loss. In addition, all of the silk ribbon work was tattered.  I gave it to Bill Plitt, the highly regarded restorer of Native American bead work who replicated and replaced the silk ribbon edging and restored the damage to the tabs as well as beaded in the bullet hole in the strap. This is a beautiful and historic piece of Native American art.
L. 26 1/4" : W. 19 3/4"
c.  1850
SOLD #7403 
---