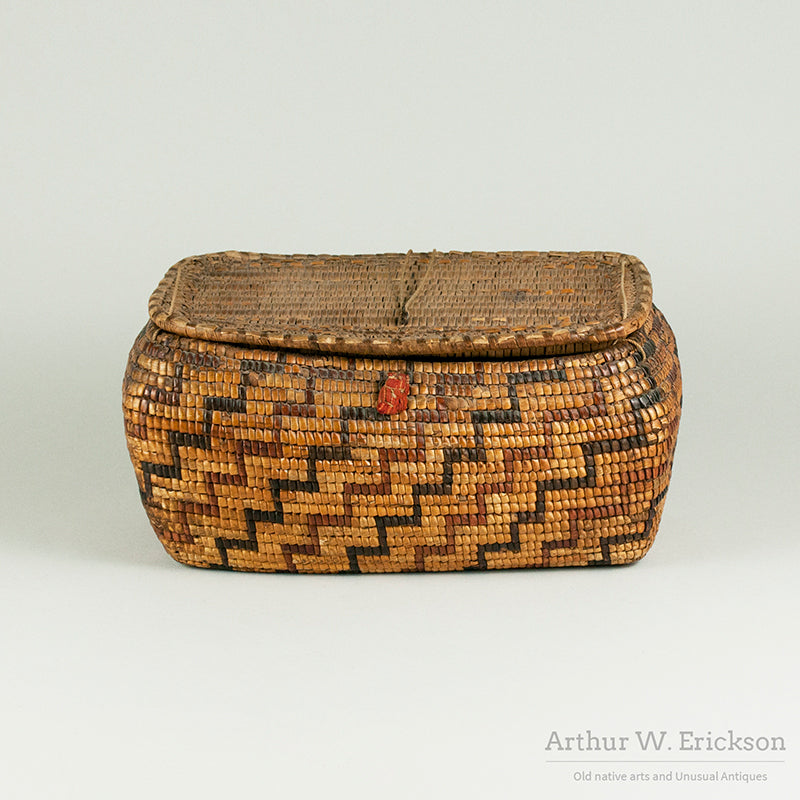 Small 19th Century Finely Imbricated Canadian Salish Trunk
This is a very handsome late 19th Century fully imbricated small trunk and lid with a stair step design on the trunk in parallel bands of alternating red and black imbrication. The basket has a small bundle of red trade cloth attached to the front, possibly used to secure the lid in some manner.  The lid has an old cotton cord running through it at each end and these are attached to the basket at the corners and each end of the two cords is secured by a knot on the inside of the basket.  The lid no longer fits in the opening of the trunk and now sits on the top of the edges as the sides of the trunk have pulled inward and the lid may not have been the original lid.  The rim has lost stitches at two opposite corners but there are no breaks in the basket.  There is very old note that came with the basket that says:  "British Columbia Very old. Note the fastenings (Needless to say, the fastenings were not original equipment)"
L. 9 ½" : W. 5 ¾" : H. 4 ½"
Second Half 19th Century
Sold #7833
---