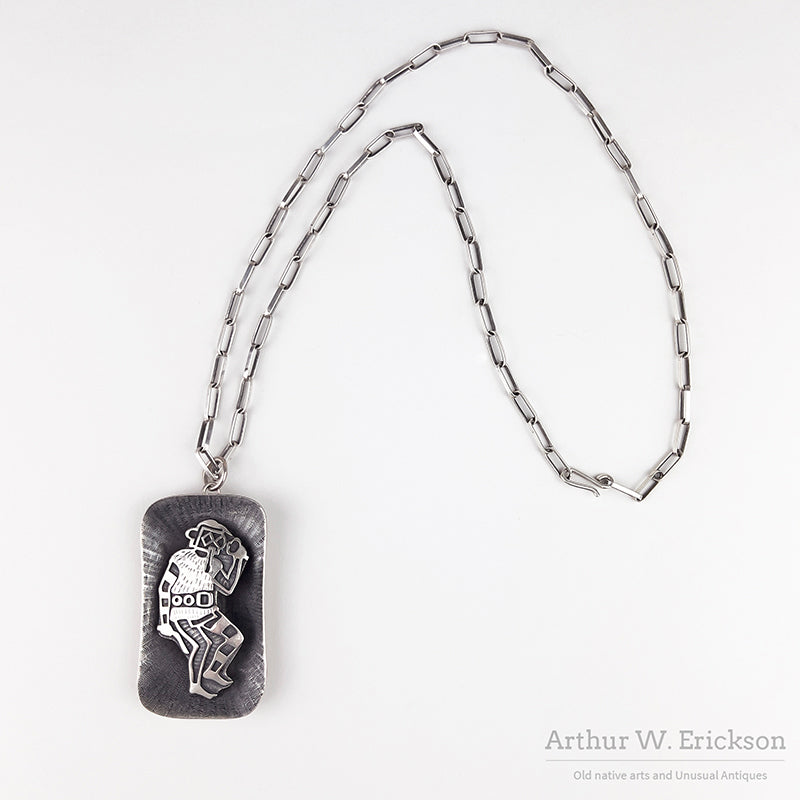 Siyangephoya (Left-Handed) Kachina Pendant by Bernard Dawahoya
This finely done silver overlay pendant by award-winning Hopi pueblo silversmith Bernard Dawahoya (b.1935-2010) features a Siyangephoya (Left-Handed) Kachina as the focal point. He is mounted to the center of a larger concave silver rectangular plaque that has been matted and oxidized. The Hopi attribute the Left-Handed Kachina to the Chemehuevi. He is called Left-Handed because he carries a bow in his right hand rather than in his left hand, drawing arrows with his left hand. In fact, he generally does everything backward.

Bernard Dawahoya began learning silversmithing in the early 1950s from his uncles, Washington Talayumptewa and Sidney Sekakuku, and continued his education with classes at the Hopi Silvercraft Cooperative Guild. He worked alongside artists like Eldon James for Wayne and Emory Sekaquaptewa, making jewelry at HopiCrafts. Dawahoya eventually re-settled in Shungopavi, opened his shop, and continued to exhibit at art and crafts shows. His award-winning silver work and in other mediums are included in the collections such as the Peabody Museum at Harvard University.
The pendant is marked with Bernard Dawahoya's maker's mark of a snow cloud in opposing corners on the reverse side of the pendant. 
Pendant -  L.3 ¼" : W. 2" ;   Chain- L. 34"
c.1970s
#8536
---