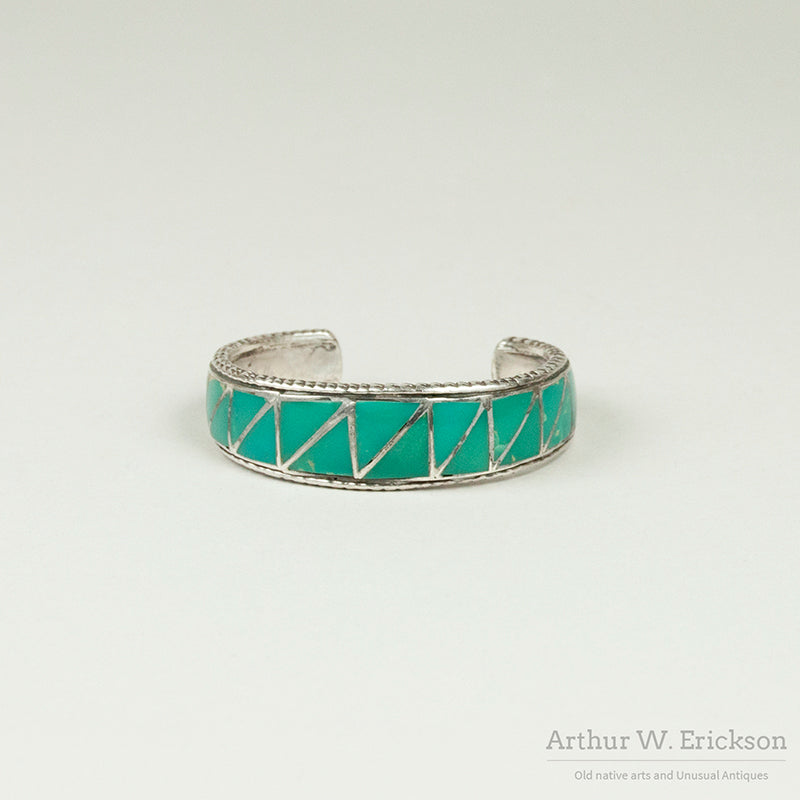 Ralph Tawangyaouma Turquoise and Sterling Silver Inlay Cuff Bracelet
\Ralph Tawangyaouma  is a member of the Corn Clan of the Hopi tribe. He was predominantly active from 1906 in to the late 1960s. His work is noted for its heavy silver stampwork and set stones. Both these elements are noted in this striking cuff of inlaid turquoise triangles and notched edging on both sides of the cuff. This is a highly collectible piece by one of the finest traditional Hopi silversmiths.
 Ralph Tawangyaouma was  deeply involved in Hopi spiritual life as a Two-Horn Priest. In 1906, he witnessed the split at Oraibi. He was among the traditionalists who established Hotevilla Village. 
Years later he would move from Hotevilla Village, and work for a number of years in Phoenix Arizona as a full time silversmith at Vaughn and Fred Wilson's Trading Post. He would later return to Hotevilla and live there until his death in 1973.
Interior Wrist Measurement: 4 7/8"; Opening: 1", Width: ⅝"
c.1950
#7923
---