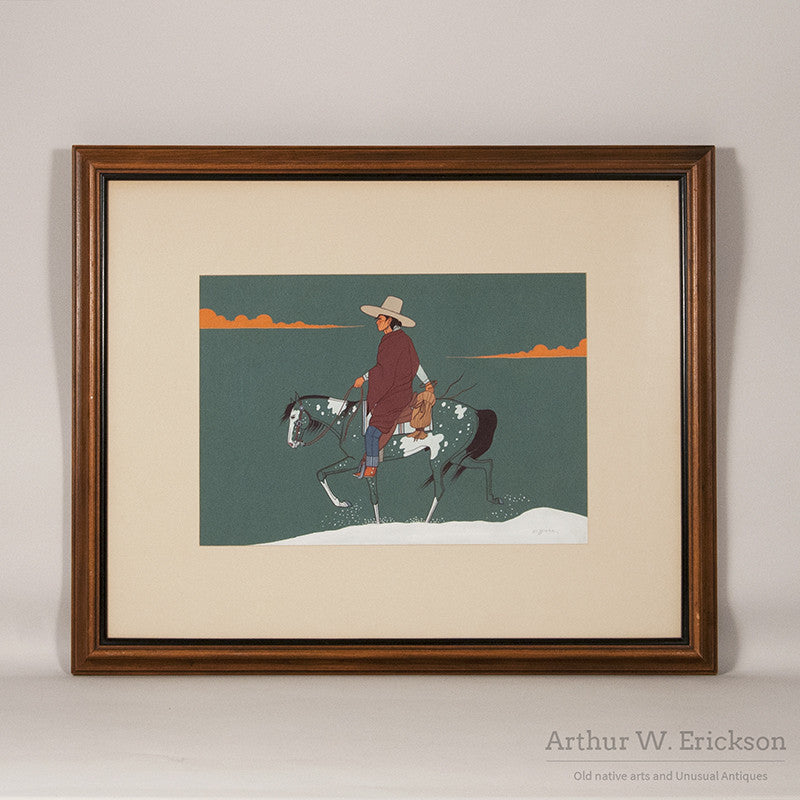 Beatien Yazz (Jimmy Toddy) Painting of Navajo Man on Horseback in Snow
Beatien Yazz, Little No Shirt - Jimmy Toddy  (b. 1928) 
Gouche on paper (sight): W.18" : H. 13⅝" ,with frame:  W. 30¼" : H. 25"
The painting depicts a Navajo man riding a pinto pony in the snow late on a winter's day with pink in the clouds in the fading light.  He is wearing a wide primed hat, denim jeans and Navajo high top moccasins with buttons up the side and is wrapped in a cloak against the cold.  The painting is signed in the lower right "B Yazz"
Beatien Yazz started painting as a young man and entered the service as a Marine code talker in the South Pacific during WW 2.  After returning to the Navajo nation, he pursued a career as a painter.  His paintings reflect the everyday events of life on the Navajo reservation he grew up on.
c. 1970
Hold #7149
---