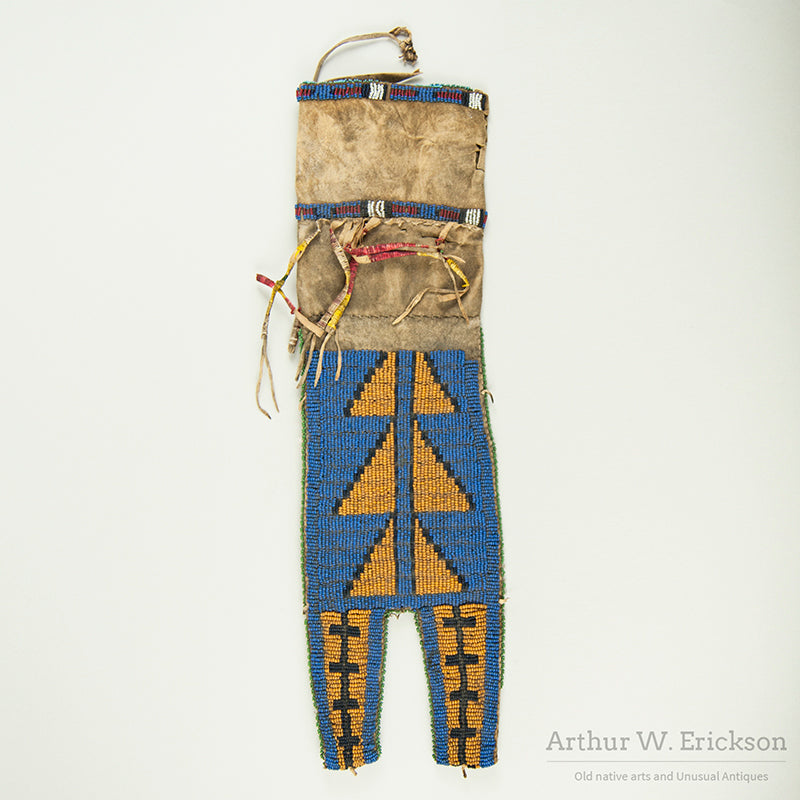 Unusual 19th C Pipe Bag Collected by Col. George A Forsyth
This bag is important because of its form and because is was collected by Col Forsyth. This pipe bag is in the form of some of the early bags beaded on the hide of an animal with its legs still attached. The bag is long and narrow with two leg-like extensions below the main body. The body of both sides of the bag is beaded with a vertical design of three joined triangles with a wide center band extending down the middle of the triangles. The background on both side is blue with the triangles in green on one side and gold on the other side. The "legs" are bordered by the same blue with a gold field extending down the "legs" with a black crossed band in its center. The upper body is unusual with a beaded finish at the top which is repeated midway down the upper body and below this lower band is a row of quill wrapped wide fringe. The bag has condition problems. The top is stiff with some give, much of  the quill wrapped fringe is gone on both sides, some of the beaded edging is missing on one of the "legs" and what may have hung from the ends is missing.
The bag came out of an estate here in Portland and had passed down from descendants of Col. Forsyth. In addition to the bag, there are two tinted photographs of Forsyth as a Captain in the 8th Illinois Cavalry in 1862-1863, an enlarged photograph of him from an 1870 photograph, a photograph of him from Ouray, Colorado with the 4th Cavalry, a photograph of him in uniform from Paris and a photograph of him as an old man. He wrote several books about the Indian Wars in the west and with this is a somewhat battered copy of his book "The Story of the Soldier" with his book plate in it. All of these items are include with the bag.
To learn more about Col. Forsyth please visit our Blog
L. 17"; W. 5"
c.1870
Sold #7805
---