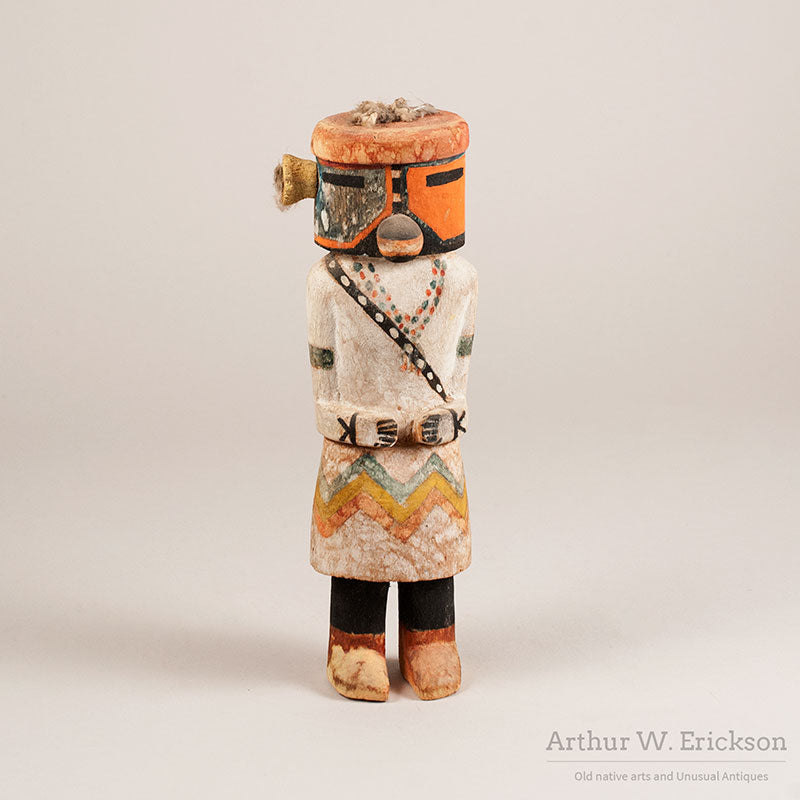 Hopi Katsina Doll, Tasaf (Tasap)
This Tasap (Tasaf) Katsina doll is the Hopi tribe's representation of a Navajo god. The Hopi made many Katisnam that honored and depicted other tribes including the Navajo, Comanche, and Zuni. It is important to remember that this figure does not originate with the Navajo, rather it is uniquely Hopi. He wears a white kilt with a tri-colored chevron pattern. With time, the red of his moccasins have worn away. He wears a rain sash and had a white upper body with a black arm band on each arm. He has little fibrous tufts protruding from the top of his head and the blossom like ear on the right side of his head. Along his journey, he has lost the feathers along the left side of his head leaving only two holes where the feathers would have been.  He is carved from Cottonwod.
The Tasap is afford the same respect as the other Hopi Katsina as they are viewed as intermediaries between the rain gods and the Hopi people.  They are shown reverence during their appearance at the summer Katsina day dances and Angak'wa. Often their songs will feature some Navajo words. These words are often referencing blessings in life or things that represent precipitation and water.
L. 3" : W. 3": H. 8 ½"
c.  1940
Sold #7600
---