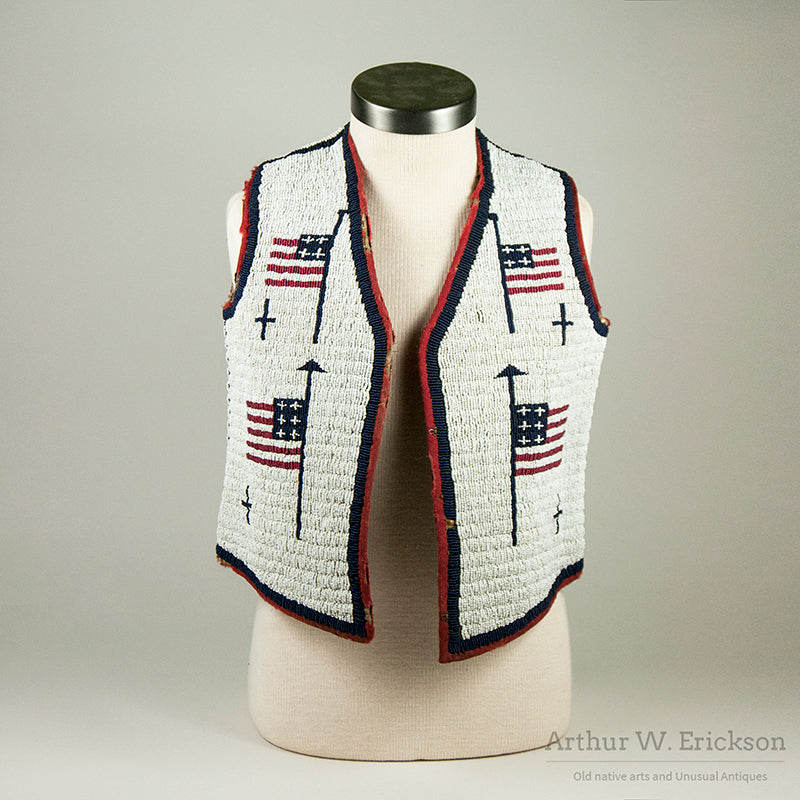 Sioux Child's Vest with Eight Flags
This is a beautifully made Sioux child's vest with four flags on the front and four on the back on a white background. The bead work is in excellent condition with very little bead loss, but it was worn and shows this in the wear on the red cotton binding around the edges. It also had a lining of thin black cotton but only remnants remain along and under the red edging. I believe that the vest is on buffalo hide, as it has the characteristic tight curls in the leather but I am not entirely sure of this identification.
Aside from the striking design on the vest, we know who collected it, which is not commonly available. The vest passed down to the present owner's family from his father's great uncle Colonel Horatio Gates Sickel who died in 1918. Sickel graduated from West Point on June 14, 1876 and following the loss of so many officers under General Custer at the Little Big Horn on June 25th, he was appointed to the 7th Cavalry and served with that unit until he was transferred to the newly formed 12 Cavalry Regiment in 1903, eventually taking charge of that unit. He commanded E Troop of the 7th Cavalry at the Battle of Wounded Knee.  
L. 16 ½" : W. 14"
c.1890
Sold #7768
---