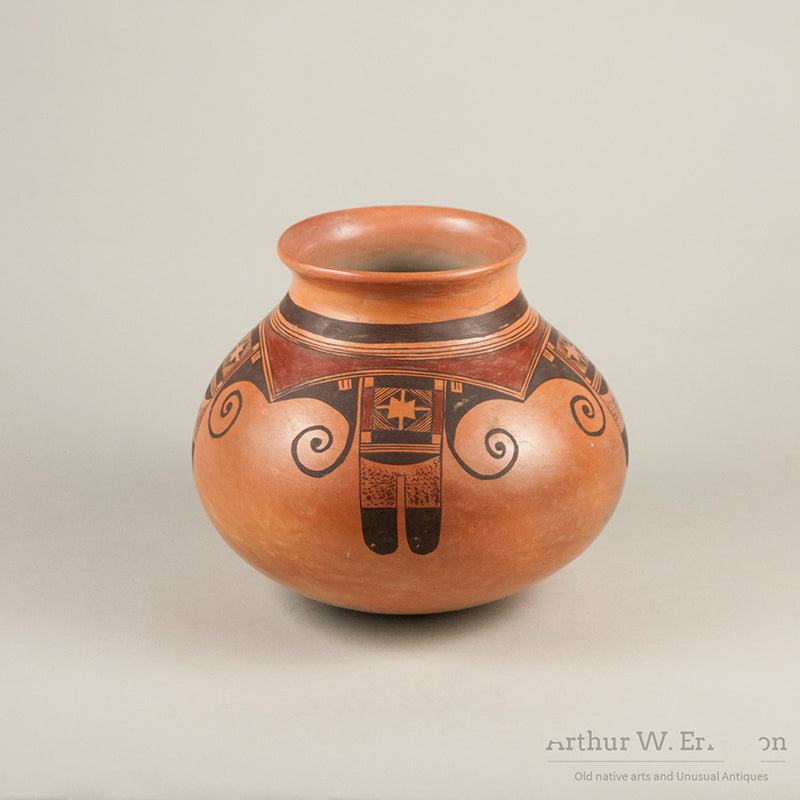 Priscilla Namingha Nampeyo Pot
Although the combination of this form and this design is unusual for Priscilla Namingha Nampeyo's body of work it is distinctly hers. From the shape of the eagle feathers to the red square surrounding the opening, it has all the hallmarks and elegance of Priscilla's pottery. You will note, above the red square that form the base of the design is three thin black lines and one thick black band that run the full circumference of the pot's neck. This type of banding is often seen on Priscilla's pottery that has the migration design.
  Below the red square, additional slender black lines outline the square and create a start point for the eagle feather design that is repeated four times around the jar, one for each side of the square. The design is an adaptation of a motif found in the Sikyatki ruins that was original adapted by Nampeyo. Priscilla Namingha Nampeyo (1924-2008) was a third-generation descendant of Nampeyo (She is granddaughter to Annie Healing Nampeyo and daughter of Rachel Namingha Nampeyo) Priscilla also passed on her great talent to her children and grandchildren, who have gone on to be renowned potters in their own right, including Rachel, Bonnie, Nyla and Jean Sahmie. As a child, Priscilla began making pottery under the guidance of Nampeyo of Hano. Priscilla held on to the traditional forms and designs that she was taught and they soon became her hallmarks, especially using the Sikyatki revival designs taught to her by Nampeyo and is well known for her migration patterns and eagle feather designs.
She has been included in several publications, including Fourteen Families in Pueblo Pottery by Rick Dillingham and has several pieces in museums across the United States.
D. 7 ¼",  H. 6 ¼"
c.
Sold #7691
---