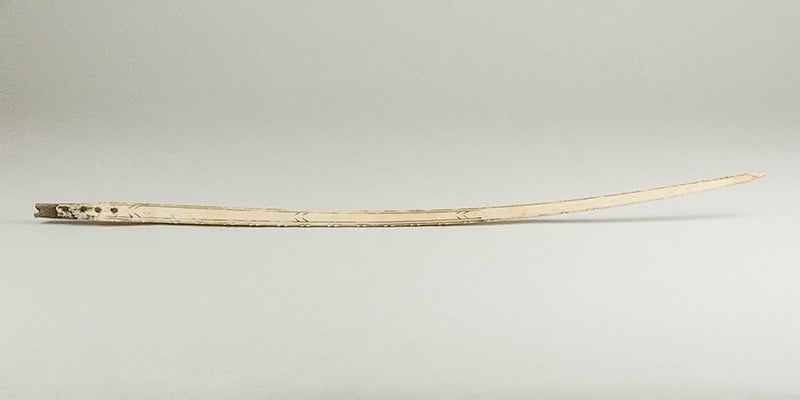 Eskimo Scrimshawed Long Ivory Bird Spear Point
This spear point is unusually long. It is triangular in cross section and has a pair of serrations along the opposing edges on one side extending from the tip to about 17 1/2" up the point. These pairs are spaced about 1/2" or less from the adjoining pair. It has a scrimshawed line running almost the full length of the spear on both sides of the serrations and a second scrimshawed line running parallel and about 1/8" inch from this line beginning about 1/3 of the way up the spear with three sets of short parallel diagonal scrimshawed lines facing back and away from the serrations. It has an old repair by adding a bone extension to the butt end where it looks like it broke.  This bone extension is held on by four wood pegs.
For an example of a complete bird spear withe a 22" ivory point from Nunivak Island, see #7, Plate LIX, in The Eskimo About Bering Strait, by Edward William Nelson, published 1899 and reprinted by Smithsonian Institution Press in 1983. 
L. 20 3/4"
c. 19th C
Sold #7798
---