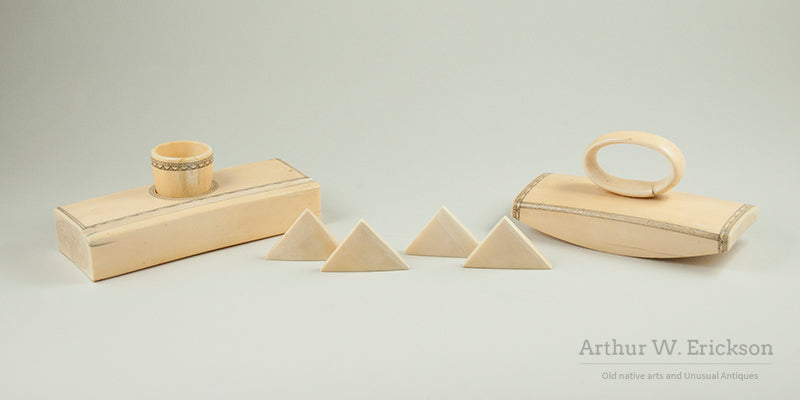 Eskimo Carved Walrus Ivory Desk Set
This is a truly unique and handsome set of antique office desk furnishings.  All of the pieces were carved from walrus ivory which over the years has turned to a warm butter yellow.  With the exception of the desk pad corners, all of the pieces have discreet delicate hand scrimshawed linear designs around the borders composed of small inked "dots" within lines and bands of triangles.  The set has some condition problems.  The open oval handle on the blotter has been broken near the bottom and glued.  The paper fastener holder has a vertical age crack down the outside on one side  and the corners have darkened somewhat from their use.  
Pen Holder & Ink Well L. 7 1/2" : W. 2 7/8": H. 1 1/2"  Blotter  L. 6 7/8"  W. 2 3/4"; H. to top of handle 3 3/8"  Paper Fastener Holder  H. 2"; D. 1 3/4"; Four Triangular Ivory Desk Pad Corners 2" x 2"
c.1910
#7865
---