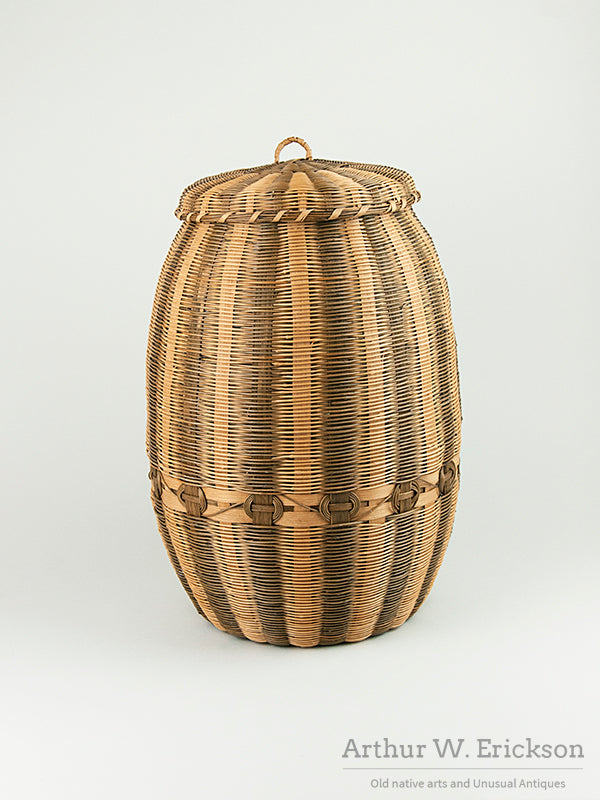 Cherokee Basket by Nancy Conseen
This beautiful honeysuckle vine and white oak hamper is made by Cherokee basket weaver Nancy Conseen. The white oak and honeysuckle vine were bleached and then hand-dyed a  to create the alternating vertical stripes that wrap around the entire basket. A small horizontal band of dyed honeysuckle vine swirls decorates the basket roughly a quarter of the way up from the base. It is one of the traditional designs that can be seen in Nancy Conseen's baskets. 
Nancy Conseen(1929-1997) learned her craft beginning at the age of six from her mother, Caroline Conseen and then later Lottie Stamper, both well-known basket weavers in their own right. Nancy won many state and national awards through out her career. This basket was originally purchased from the Qualla Arts and Crafts Mutual, Incorporated in Cherokee, North Carolina.  
To learn more about Nancy Conseen click here
To learn more about Qualla Arts and Crafts Mutual, Incorporated click here
D. 10 ½" : H. 16"
Third Quarter 20th Century
Sold #8534
---