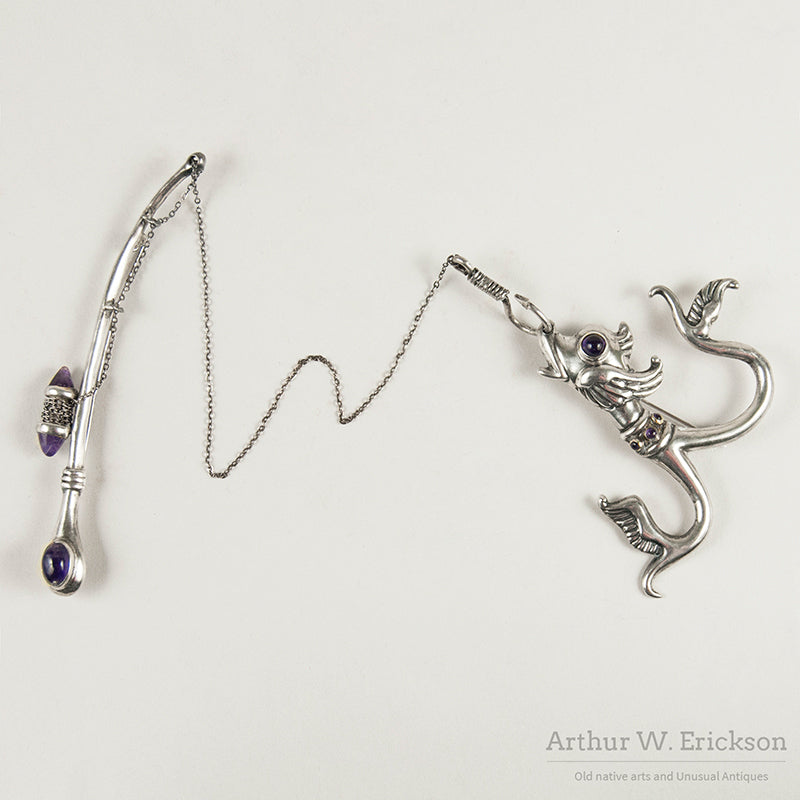 Hubert Harmon Fish and Pole Brooch
This whimsical piece in sterling with an exceptionally fanciful fish with wings for fins and tail is hooked with a silver chain to a reel with amethyst terminals on a long fishing pole. The fish has a large round amethyst eye and a band with three small amethyst cabochons around its middle. The pole has a large oval amethyst as it's handle. This is a classic Hurbert Harmon piece from the first half of the 1940's when he designed and made jewelry in Taxco, Mexico. Penny C. Morrill, in her book "Silver Masters of Mexico" illustrates an example of this piece (plate IV-7) and describes it on page 189. She calls the piece "one of his most remarkable brooches." The brooch is in excellent condition without dents or scratches with the exception that the reel appears to be jammed so that it will not turn to retrieve the chain. A good jeweler should be able to make the reel work again.
L. of fishing pole 5"; W. of fish 3 3/8"
c. 1940-1945
Sold #7695
---